A Leading provider of Electrical & Maintenance Enquiries.
Minimise quality complaints & maximise client confidence in our competence.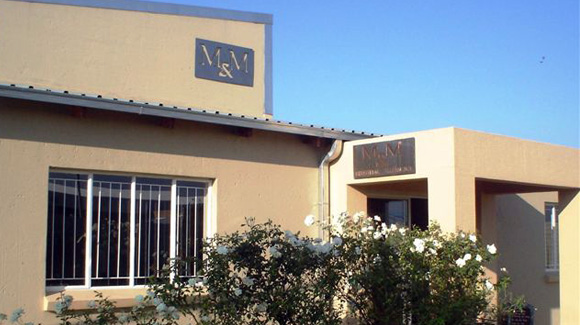 HISTORIC BACKGROUND
M&M Industrial Technology and Services was founded in August 2001 by Mr. Stefan Jacobs. As it became apparent that there was a need for Maintenance and Management Service Providers in the Electrical and Instrumentation Community.
QUALITY STATEMENT
It is a prime management objective of M&M Industrial Technology and Services to supply products and services with a high level of quality and reliability for our client requirement, and to comply with SABS standards in the case of installation or equipment provided and the certificates for guarantees where requested.

We as a company received an Award for Best Sub Contracting Company at Camden Power Station situated nearby Ermelo.

EXPERIENCE

Mittal, Samancor, Scaw Metals, Highveld Steel, Sasol, Hillside Richardsbay, ESKOM, Anglo Mines, Coal Mines, Sishen Mines, Gold Mines, Eskom Power Stations, Cinter Plant, Coke Plant, P&H Groote Geluk Mine, Foskor Mine, Sishen Mine, Newvaal Collery.
HIGHLY COMMENDED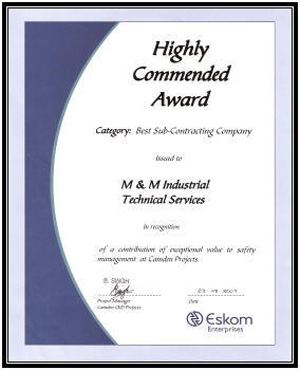 SAFETY POLICY
The object of the M&M Industrial Technology and Services Safety Standards Manual is to assist management in complying with the legal, financial and moral obligations that rest upon them. The key elements are purposely set out in a matrix format to assist the user in identifying his responsibilities speedily and easily. It is the Company Policy to attached the greatest importance to the prevention of any form of loss, in particular to the safety of it's employees.

The Company therefore considers that each manager, supervisor or employee is responsible for safety, health and welfare within their respective area of concern.